LAKE COLUMBIA


Property Owners Association

Lake Columbia is enjoyment
in EVERY season!

Hours of Operation
Monday - Friday: 9:00 am to 5:00 pm
Google Map
Welcome to Lake Columbia Property Owners Association
Lake Columbia is a private lake located in the beautiful Irish Hills area of Southern Michigan near Michigan International Speedway (MIS) and Brooklyn, MI.
Special Notices

Fireworks
The person who usually does the LCPOA fireworks was not available this year. He gave us short notification that we would need to get a replacement. (read more)
Attention - Dock at Hawthorne park damaged.
Be very careful if using this dock. Service has been called and will be out to repair it soon. (read more)
Weed Applications


PLM will be returning next week to treat areas that are still having problem with weeds. (read more)
Recycling Notice
Recycling is no longer the 1st & 3rd Tuesday of each month, it is Every Other Tuesday. (read more)
Castlewood Bathroom NOW OPEN


There has been a sewer problem and the Castlewood bathroom IS NOW OPEN. (read more)
Lake Swans & Geese
Please do not bother the swans & geese. It is against the law. (read more)
Park Users
Vehicles without a 2018 decal or parking when the parks are closed, at any of the parks, will be stickered and possibly towed. (read more)
LCPOA Annual Picnic - August 18


Come out and get to know your lake neighbors and enjoy a nice lunch at Castlewood park. (read more)
Featured Dates
---
Quick Links
· Weed Treatments & Notices
· Trash Service for Members
· ByLaws & Deeded Restrictions
· Board Officials/Shore Directors
---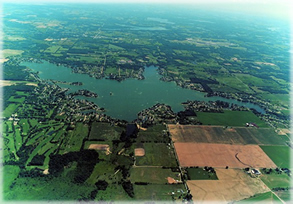 Association Office
Our LCPOA office is opened five days a week. For your convenience during closed hours, owners can mail, email, fax or use the front door drop-off slot to submit payments, vehicle and watercraft registrations, etc. If you need to obtain a ramp key, pick up watercraft or vehicle decals or submit building plans, etc., just stop in to the association office during our office hours.

We are proud of our lake and want it to always be a healthy, fun, and relaxing place for everyone to enjoy. As we all know, Lake Columbia is one of the most desirable private lakes in Southern Michigan! Thank you for all that you do in helping to support our lake through your donations, volunteering your time, keeping our parks clean, participating in our community events and so much more!

For more information or for any questions, please contact us.


We look forward to hearing from you!